Traditional Thai Foot Massage (Reflexology)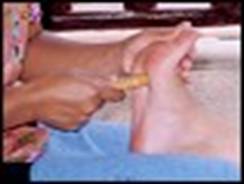 Thai Foot Massage is a massage of the legs and feet that originated in Thailand about 2000 years ago.
It is a part of traditional Thai massage and has elements of Shiatsu, Chinese massage and Yoga incorporated into the massage itself. It is still taught by Buddhist monks in the temples of Thailand.
Health Benefits of Thai Foot Massage
Reduce stress
Improves circulation
Helps remove toxins and strengthening of the immune system, thus preventing disease.
Reduces stiffness and improves flexibility
Helps with insomnia
Mental fatigue