Hydrotherapy Hot Tub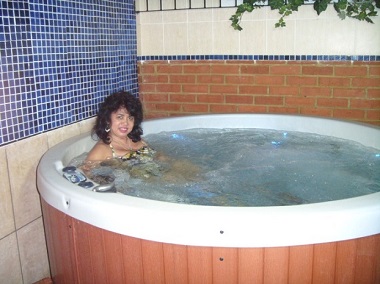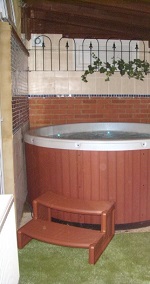 Seats 4/5 people
17 direct pressure and rotational Jets
Health Benefits of Hot Tub Hydrotherapy:-
Mitigates the symptoms of muscle strains, sprains, and many other injuries
Increases blood flow and circulation
Alleviates back pain
Eases the symptoms of arthritis
Brings the body into a more calm and liberated state
Encourages a deep, restful sleep
Diminishes chronic pain
Reduces blood sugar levels for Type 2 diabetics
Helps restore range of motion
Speeds the elimination of toxins, which are replaced by oxygen and the body's natural nutrients
May help lower blood pressure
In both eastern and western medicine, doctors, trainers and physical therapists routinely prescribe hydrotherapy for the relief of pain caused by some types of arthritis and short term injuries. The water massaging jets stimulate healthy circulation, digestion and skin tone.
Ancient Greek, Chinese, and native American traditions noted that water was one of the few basic elements of life, with the power to calm fiery emotions, soothe the body, and restore the spirit. The early Romans were convinced of the therapeutic value of thermal water. For some 600 years their medical treatments were almost exclusively centred on the Baths, which were also the communal meeting places of the time.
Today the spa continues this tradition of using the restoring properties of water. A spa is about getting a break from the pace of our lives. We all deal with daily stress, while juggling work, family, commuting, learning and running errands. This causes muscle tension, restricted blood flow, headaches, sleeplessness, fatigue, sickness, and depression.
In the hot tub, heat dilates blood vessels to increase blood flow to save damaged tissues and helps the body's natural healing process.
The water massaging jets help to relax muscles, relieving pressure on nerves and alleviates pressure of joints and muscles.
Through hydrotherapy the spa provides the relaxation and nourishing rejuvenation that the human body craves and immeasurably benefits from.
These benefits are readily available for you everyday at Sacha Health Club. You can book for private parties, Please telephone or email below for details.
Private Party bookings available for Hydrotherapy Hot Tub. Telephone 0208 933 0577